U.S.
Alabama sheriff says 6 dead after tornadoes rip across southeast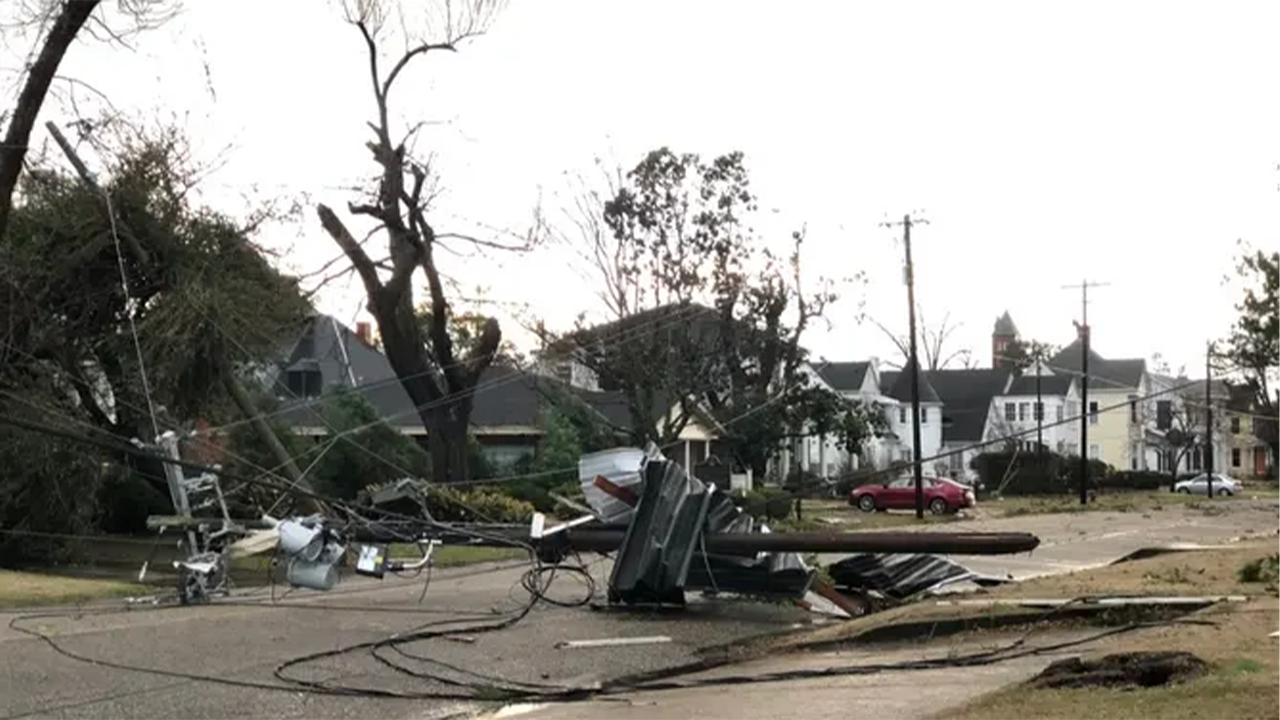 A large tornado damaged homes and uprooted trees in Alabama Thursday leaving at least six dead as a powerful storm system pushed through the southeast. Storm damage have also been reported in Mississippi, Georgia, and Kentucky.
The National Weather's Prediction Center said that the greatest risk of severe storms, an "enhanced" risk, is predicted for about 9.5 million people in Alabama and Georgia, including the Birmingham, Montgomery and Atlanta areas.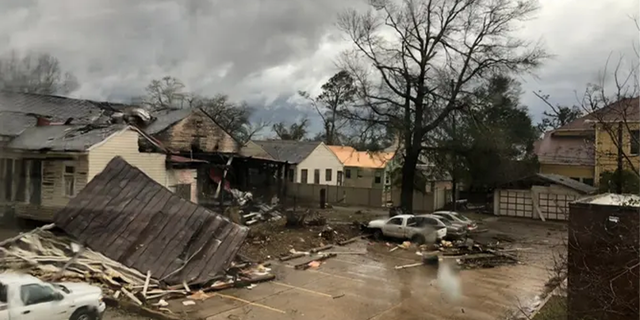 On Thursday, the Federal Aviation Administration (FAA) required the world's busiest airport, the Hartsfield-Jackson Atlanta International Airport, to ground flights as the area faced severe weather and thunderstorms. 
STRIKING IMAGES SHOW DESTRUCTION CAUSED BY SEVERE WEATHER IN THE SOUTH
The National Weather Service issued a tornado emergency for several counties just north of the capital city of Montgomery as the storm system moved eastward. 
"This is a life-threatening situation." NWS said. "Take shelter immediately."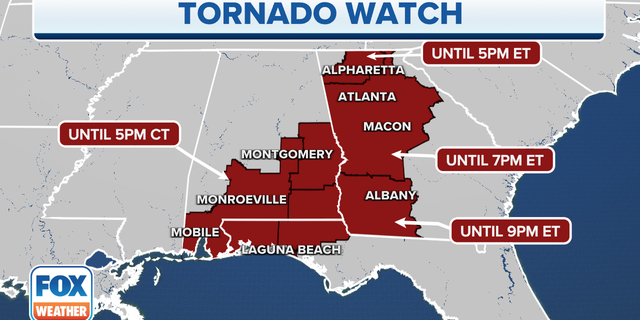 Several tornado reports came from across central Alabama as storms ravaged the region. Significant structural damage was first reported south of Greensboro, Alabama, just before 11 a.m. on Thursday.
In Autauga County, Alabama, a rare Tornado Emergency was issued as forecasters said a large and destructive tornado was located outside of Montgomery.
Autauga County Sheriff's Office confirmed to G3 Box News Digital there were at least six fatalities from the treacherous natural disaster. Authorities have not released how the individuals died.
"You are in a life-threatening situation," the NWS said during the Tornado Emergency. "Flying debris may be deadly to those caught without shelter. Mobile homes will be destroyed. Considerable damage to homes, businesses and vehicles is likely and complete destruction is possible."
Selma, located about 40 miles west of Montgomery, was in the path of the extremely dangerous twister around 12:30 p.m. on Thursday. 
According to a Facebook post from city officials, emergency response teams were providing assistance and cleaning roadways. 
TORNADO TOUCHES DOWN IN CALIFORNIA TOWN AS DESTRUCTION FROM ONSLAUGHT OF STORM CONTINUES
Residents across Selma were told to seek shelter and avoid traveling on area roadways. Downed power lines were also reported throughout the region.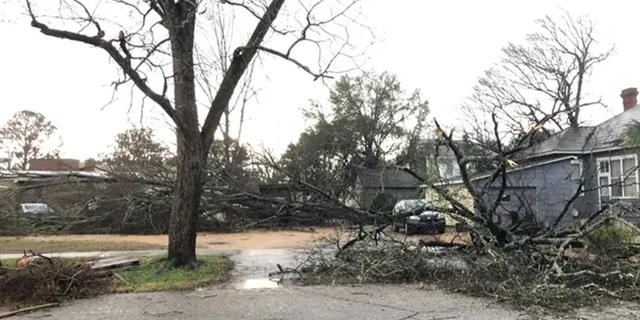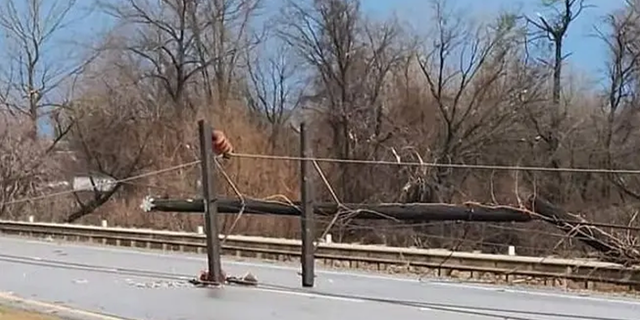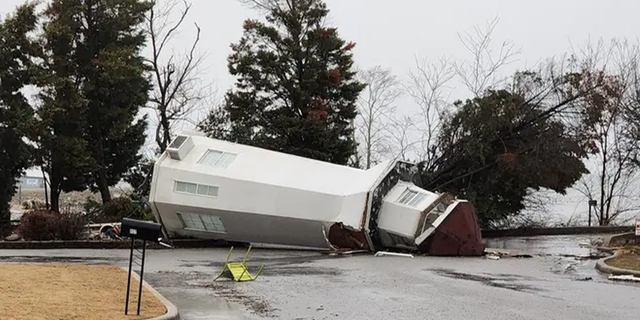 Lachandra Sturdivant witnessed one of the tornadoes from a coffee shop in Selma, Alabama.
"We could hear the train — the tornado sounds like a train just roaring through," she told FOX Weather. "It just started ripping trees, roofs off buildings, stuff was just everywhere."
HOW TO WATCH FOX WEATHER
Sturdivant said she was waiting in her car to check on loved ones as roads were blocked in parts of central Alabama.
"It's horrible through here," she said. "The power's off, they're trying to cut trees out of the roads to open a way for people to get around."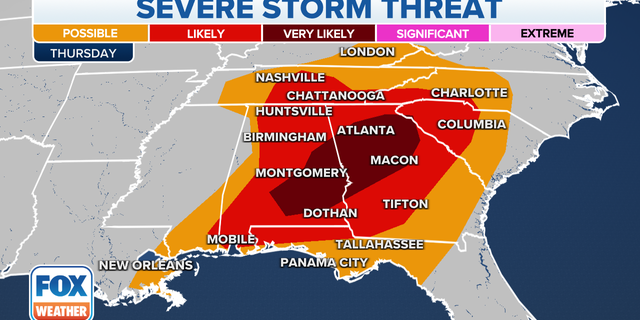 Former state Sen. Hank Sanders said he has been told there is damage "all over Selma."
"A tornado has definitely damaged Selma. In fact, it hit our house, but not head-on. It blew out windows in the bedroom and in the living room. It is raining through the roof in the kitchen," Sanders said.
More than 120,000 customers in Alabama, Georgia and Tennessee were without power as of 4:00 p.m., according to PowerOutage.us.
"Citizens, please refrain from traveling the roadways and stay away from downed power lines," Selma's mayor office said in a Facebook post. "City crews will be out as soon as practical to clean up."
CLICK HERE TO GET THE G3 Box News APP 
In Kentucky, the National Weather Service in Louisville confirmed that an EF-1 tornado struck Mercer County and said crews were surveying damage in a handful of other counties. There were reports of downed trees, power outages and other scattered damage from storms that moved through the state.