World
Assessment in the West: Russia has exhausted the stock of drones it received from Iran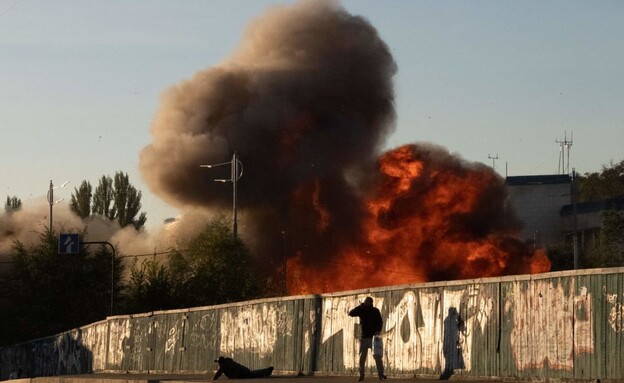 Russia is facing a real crisis in the field of armaments and weapons, according to the daily report of British intelligence on the war in Ukraine this morning (Wednesday). The report states that the Russians have apparently exhausted their stock of Iranian attack drones – after almost a week of not using them throughout Ukraine.The British note that no Iranian suicide drones ("one-way attack drones") have been used since November 17, and Russia appears to have almost completely exhausted its current inventory. Because of this, Russia is now expected to look for new sources of supply.
Latest Defence Intelligence update on the situation in Ukraine – 23 November 2022

Find out more about the UK government's response:

#StandWithUkraine pic.twitter.com/0uv6zeo9jU

— Ministry of Defence (@DefenceHQ) November 23, 2022
Over the past few weeks, Russia has made extensive use of attack drones from Iran, mainly the Shahad-136 suicide drone. In the recent period it is evident that those drones were mainly used to attack civilian targets – including electricity and energy facilities, and medical institutions.
Last week, Russia carried out widespread attacks of hundreds of cruise missiles throughout Ukraine. For weeks, the West claims that Russia is in a fundamental arms crisis, and is unable to continue producing cruise missiles and additional missiles of other types – and because of this, it is required to turn to external sources of supply.
In the West, it is estimated that to date, Iran has transferred hundreds of drones to Russia for the war in Ukraine, and President Zelensky previously claimed that the two agreed on the transfer of 2,400 drones. Despite the many hits by the drones at targets throughout Ukraine, the air defense teams in Kiev and other cities recorded successful interception rates – at a rate of close to 85%.
At the end of the week, the Washington Post newspaper reported from American intelligence sources that Iran and Russia agreed on the establishment of a production line for the development of Iranian offensive drones on Russian soil. According to another report inCNNquoting officials in the Ukrainian army, Iran has already transferred to Russia the detailed plans for the development of the drones – and the production line may start already at the end of this month.
At the same time as the drone deals, the West estimates that by the end of this month, Iran is expected to deliver to Russia a shipment of surface-to-surface ballistic missiles – against the background of the shortage experienced by Russia in Russian-made missiles. According to the various reports, Iran is expected to deliver to Russia missiles of the Fatah-110 and Zulfinkar models, which are effective for ranges of 300 and 700 km respectively.
The head of the AMN, General Aharon Haliva, said this week at a conference on Iran at the National Concrete Research Institute (INSS) because he is sure that Iran receives a handsome reward from Russia for the drone deals. "There is no such thing between countries where there is no reward," he said, "otherwise there is no deal. A lot of money has passed, and the Iranians will demand their liter of meat – from intelligence, through military intelligence of all kinds, systems. I can expect that the demands will be many. In the delicate management of the region, I hope that the Russians, also as a result of Israel's policy, will know how to balance part of the reward they will give to the Iranians."