U.S.
Minnesota health mentor reportedly offers student chest binder for gender transition behind parents' backs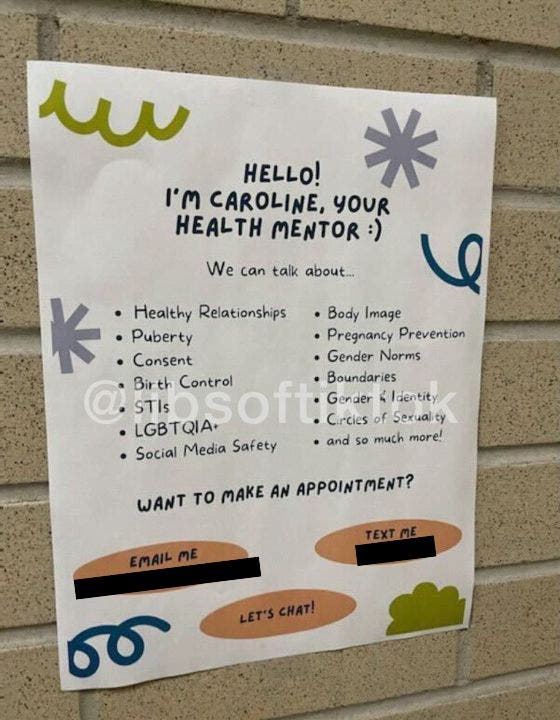 A Minnesota health mentor offered an investigator posing as a student a gender-affirming chest binder while stating she will not inform the student's parents. 
A parent sent @LibsofTikTok, a picture of a flyer that was hung inside a school in Hopkins Public Schools District introducing Health Mentor Caroline Hickey, who offered a litany of LGBTQ counseling services. 
@LibsofTikTok reached out to the number provided and posed as a student within the District. Investigators told Hickey that they were "seeking hormones because of struggles with gender identity and that we didn't want our parents to find out." 
TRANSGENDER INSTAGRAM MODEL ALLEGEDLY MURDERED DAD, STABBED SISTER AFTER 'ARGUMENT OVER A LAPTOP': PROSECUTORS
Hickey responded asking the student to come and discuss with her potential alternatives to hormone therapy including, as she offered, "a free binder from myHealth." 
Chest binding, the practice of flattening one's chest with bindings to appear more masculine, is a form of gender expression popular among women looking to change sex. However, it is not without its dangers. 
In one study of more than 1,200 participants, nearly 89% experienced at least one health problem caused by chest binding. Unsafe binding may lead to permanent deformation of the breasts, scarring, and lung constriction while long-term binding may also adversely affect the outcome of a future mastectomy.
VIRGINIA BILL WOULD BAN TRANSGENDER ATHLETES FROM WOMEN'S SPORTS
Hopkins Public School partnered with myHealth who "provides educational presentations to middle to high-school age youth, young adults, parents, community members and professionals in over 100 separate locations and 20 school districts," according to myHealth's website.
CLICK HERE TO GET THE G3 Box News APP
Hopkins Public School and myHealth did not reply for immediate comment